Premier Showing at the Saenger Theater - August 26th, 2006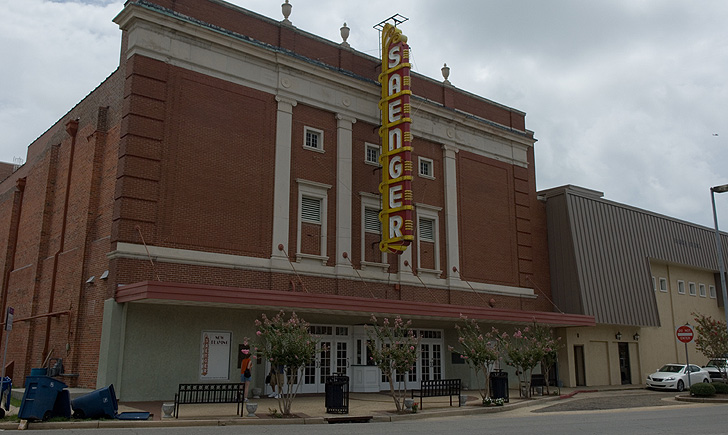 Saenger Theater - 170 Reynoir Street - Biloxi, MS
Ultimate Chase Productions in Association with Jim Reed Photography presents a premier showing of the
complete documentation of Hurricane Katrina's historic 28 foot storm surge overtaking Gulfport Beach !
Video Documentation and Showtime Duration: 1 Hour 15 minutes
Saturday August 26th, 2006
Three Movie Show Times:
1pm - 4pm - 8pm
Tickets for sale at the door on the day of the event only. Ticket sales start at 11:00am
Admission $5.00
100% of the ticket sales will be donated to the Mississippi Coastal
clean up scheduled for September 16th, 2006
The "Battle at the Beachfront" DVD will be for sale at the showing:
Watch as award-winning storm photographers Mike Theiss and Jim Reed document America's Worst Natural Disaster from the Frontlines! This rare video has been featured Worldwide on Television shows and Documentaries including NBC's The Today Show, Good Morning America, National Geographic, Discovery Channel, The Weather Channel, BBC, NHK, and more...
This DVD contains a full time line of Hurricane Katrina's unprecedented 28 Foot storm surge as it ripped through Gulfport, Mississippi. The entire documentation takes place at the Gulfport Beachfront Hotel located on coastal Hwy. 90 roughly 100 yards from the Gulf of Mexico. This intense video chronicles Hurricane Katrina's "Full Wrath" as she declares war on the Gulf Coast.
Watch as Ultimate Chase Productions teams up with Jim Reed Photography to document both Hurricane Katrina landfalls. First she roars through Miami Beach as a strengthening Cat-1 Hurricane and sandblasts the entire shoreline. Then she gains strength and causes the highest storm surge in recorded history and our mission was to capture it from the most intense part of the storm, The Eyewall. We deployed the Theiss-Device Storm Cam inside the lobby of the hotel capturing moments too dangerous for any human to survive. The TD Storm Cam provides a rare close-up view that helps illustrate the raw power of water when unleashed as Storm Surge.
DVD includes:
Hurricane Katrina's first landfall at Miami Beach
Video of flooding in Homestead, FL.
Hurricane Katrina's storm surge at Gulfport Beach
Bonus Features:
Award winning slideshow by Jim Reed Photography
About The Theiss-Device Storm Cam
About The Photographers
Deleted Scenes
Run Time: 76 Minutes
Full Screen / English / Not Rated
Video Stills below are screen captures from the DVD:
For Additional Information Please Call:
Website copyright notice below:
"Ultimate Chase" ® is a registered trademark of Ultimate Chase, Inc.
All photographs, video stills, and sample video throughout this site are copyrighted and protected under United States and International copyright laws. The photographs, video stills, and video may not be reproduced in any form, downloaded, stored, or manipulated without prior permission from © Ultimate Chase, Inc. All Rights Reserved.